SD – CLASS C REINFORCING STEEL
Sidenor, with more than 55 years experience, produces weldable high strength concretereinforcing steel, meeting the latest standards for the worldwide markets.
SD Concrete reinforcing steel is available in diameters of 8 up to 40mm, in straight bars of 12and 14m and in bundles weighing about 2tn.
SD Concrete reinforcing steel is also available in standard coils in diameters of 8, 10, 12, 14 and 16mm, as well as in spooled coils in diameters 8, 10, 12, 14, 16, 18 and 20mm.
Standard steel grades
B500C acc. To ELOT 1421-3
Greece
B500B acc. to DIN 488
Germany
B500C acc. BS4449:2005
UK
B500B and B500C acc. to BDS 9252
Bulgaria
B500B acc. to HRN 1130-2:2008
Croatia
PC52 acc. to SR 438-1/2012
Romania
B450C acc. to D.M. 14.01.2008
Italy
S400W and S500W-C acc. to SI 4466-3
Israel
500N acc. to AS/NZS 4671
Australia
Grade 40 and 60 acc. to ASTM A615
USA
SIDENOR's SD Class C Reinforcing Steel exceeds the current ductility requirements of even the most stringent standards and regulations.
MARKING
SIDENOR's SD Class C Steel (B500C (ELOT 1421)) has two longitudinal ribs and additional transverse ribs with alternating direction on two sides. On one side there is the mark indicating the production site (8/14 for the plant in Thessaloniki and 8/24 for SOVEL plant in Almiros, Magnesia). Moreover, SIDENOR's SD Class C Steel bears the clear "SD" mark, for easier identification at all stages of its distribution, storage and use.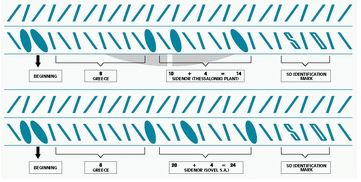 CHARACTERISTICS, DIMENSIONS & WEIGHTS
TYPE
 Hot rolled, weldable, ribbed concrete reinforcing steel
STEEL GRADE
Grade B500B (ex BSt500S) according to DIN488
FORM – DIAMETER
Straight bars: diameter from Ø8 to Ø40mm

Standard coils: diameter from Ø8 to Ø16mm

Spooled coils: diameter from Ø8 to Ø20mm

LENGTH TOLERANCE
Length of straight bars: 12m and 14m with tolerance -0 / +100mm
PACKING WEIGHT
Bundles of straight bars approximately 2tn per bundle

Standard coils approximately 1.25-1.45tn per coil

Spooled coils from 2 up to 4tn per coil
*Customer requirements for other lengths, as well as other recognized industrial standards, can be manufactured upon request.
Diameters, weights and tolerances (bars)
Nominal

diameter (mm)

Nominal cross-section (mm2)
Nominal weight (kg/m)
Weight tolerance (%)
8
50.3
0.395
±4
10
78.5
0.617
±4
12
113.0
0.888
±4
14
154.0
1.210
±4
16
201.0
1.580
±4
18
254.0
2.000
±4
20
314.0
2.470
±4
22
380.0
2.980
±4
25
491.0
3.850
±4
28
616.0
4.830
±4
32
803.8
6.310
±4
40
1257.0
9.860
±4
GREEK MARKET
SIDENOR STEEL INDUSTRY SA (ATHENS) – Export Dept.
Address:
33, Amaroussiou-Chalandriou street
Postal Code:
GR-15125
City:
Athens
Area:
Attiki
Country:
GREECE
PIC:
Kostas Panagopoulos,

Theodore Simitzis

Telephone:
(+30)-210-6787734

(+30)-210-6787706

Fax:
(+30)-210-6787740
e-mail:
kpanago@sidenor.vionet.gr
SIDENOR STEEL INDUSTRY SA (THESSALONIKI) – Export Dept.
Address:
12th km National Road Thessaloniki-Veria
Postal Code:
GR-57008
City:
Thessaloniki
Area:
Ionia
Country:
GREECE
PIC:
Nikos Mouzenidis,

Lefteris Stefanidis

Telephone:
(+30)-2310-790121

(+30)-2310-790135

Fax:
(+30)-2310-722288
e-mail:
nmouzeni@sidenor.vionet.gr estef@sidenor.vionet.gr
BALKANS