The Lattice Girders are produced with 2 longitudinal wires in the bottom flange and 1 wire on the top, welded together at regular distances using a smaller diameter secondary wire.
The top and bottom reinforcing wires are produced with SAE 1010 wire rod that   after cold rolling acquires the mechanical characteristics of the required reinforcing steel (BSt500M according to DIN488).
Lattice Girders are used mainly as reinforcement of prefabricated slabs and beams where concreting is performed in two stages, offering the advantage of avoiding scaffolding and formwork needed in traditional construction.
Therefore, Lattice Girders are best suited when slab reinforcement is generally light while at the same time fast and no-formwork construction is needed.
LATTICE GIRDERS TECHNICAL CHARACTERISTICS

HEIGHT

H (mm)

WIDTH

Β (mm)

WELDING SPACING

Τ (mm)

LONGITUDINAL WIRES DIA
WELDING WIRES D3 (mm)
BOTTOM D2 (mm)
TOP D1 (mm)
70-220
70-100
200
Φ4- Φ10
Φ5-Φ10
Φ4,2- Φ6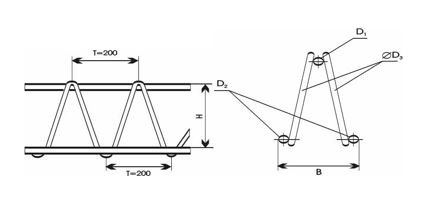 TYPE
Lattice girders
STEEL GRADE
Top and bottom reinforcing wires: reinforcing steel grade DIN 488

Welded-Longitudinal wires: steel St 37-2

LENGTH DIMENSIONS
Length from 6 to 12m

Welding spacing 200mm
SIDENOR SA (ATHENS) – Export Dept.
Address:
33, Amaroussiou-Chalandriou street
Postal Code:
GR-15231
City:
Athens
Area:
Attiki
Country:
GREECE
Telephone:
(+30)-210-6787111
Fax:
(+30)-210-6787740
e-mail:
info@sidenor.vionet.gr
SIDENOR SA (THESSALONIKI) – Export Dept.
Address:
12th km National Road Thessaloniki-Veria
Postal Code:
GR-57008
City:
Thessaloniki
Area:
Ionia
Country:
GREECE
Telephone:
(+30)-2310-790111
Fax:
(+30)-2310-722288
e-mail:
info@sidenor.vionet.gr
GENECOS SA (FRANCE)
Address:
2, rue Lyautey
Postal Code:
FR-75016
City:
Paris
Area:
Paris
Country:
FRANCE
Telephone:
(+33)-1-45270754
Fax:
(+33)-1-45270708
e-mail:
genecos@genecos.vionet.gr
METAL AGENCIES LTD (UK)
Address:
Suite 4, Cobb House, 2-4 Oyster Lane
Postal Code:
KT14 7DU
City:
Surrey
Area:
Byfleet
Country:
UNITED KINGDOM
Telephone:
(+441)-932-331111
Fax:
(+441)-932-331190
e-mail:
sales@metalagencies.com
TEPRO METALL Vertriebs GmbH (GERMANY)
Address:
Kreuzstrasse 20
Postal Code:
DE-40210
City:
Dusseldorf
Area:
Dusseldorf
Country:
GERMANY
Telephone:
(+492)-11-179 28111
Fax:
(+492)-11-179 28190
e-mail:
tepro.metall@t-online.de
SIDEROM STEEL SLR (ROMANIA)
Address:
42, Drumul Intre Tarlale Street 3rd Sector
Postal Code:
032982
City:
Bucharest
Area:
Bucharest
Country:
ROMANIA
Telephone:
(+402)-1-2090138
Fax:
(+402)-1-2090365
e-mail:
SIDERAL STEEL Shpk (ALBANIA)
Address:
Autostrada Tirane – Durres km 24
Postal Code:
City:
Tirana
Area:
Sukth
Country:
ALBANIA
Telephone:
(+355)-52-228712
Fax:
(+355)-52-222622
e-mail:
info@sideral.vionet.gr
SIDEBALK STEEL Ltd (SERBIA)
Address:
Arsenija Čarnojevića br. 52a/4
Postal Code:
11070
City:
Belgrade
Area:
Belgrade
Country:
SERBIA
Telephone:
(+381)-11-2129794
Fax:
(+381)-11-3116778
e-mail: