SIDEFIT Special Mesh Reinforcements are intended to meet all reinforcement needs that exist in technical and construction works. They are applied mainly to form a reinforcing grid for surface structures (slabs, walls, etc.). Moreover, they can cover all special needs of transverse reinforcement for linear supporting structures (columns, beams etc.), which are not covered by the standard range of SD column mesh reinforcements.
SIDEFIT reinforcements modernise existing reinforcing practice, combining guaranteed industrial quality and significant time and construction cost-savings.
Depending on the arrangement of the main reinforcement, in one or two directions, SIDEFIT reinforcements are divided into two categories:
In SIDEFIT 1D mesh sheets the main reinforcement is arranged in one direction and in the other direction small-diameter (Ø6) bars of wire rod SAE 1010 are welded. They hold the reinforcement at the desired spacing.
The number of these bars (Ø6) is the minimum required to ensure the cohesion of the mesh and their position may vary depending on the type of application (e.g. bending points, flying ends, "guides" for the forming of the mesh, etc.). Their material enables easy cutting when required.
SIDEFIT 1D Special Mesh Reinforcements can be manufactured with the use of fabric-welding machines, for the lapping and the creation of cages of various shapes (e.g. complex columns) or hooks.
They can be used in all cases of transverse reinforcement for linear structures (all kinds of beams, columns, walls, etc.), and moreover they can be used for the creation of a reinforcing grid for surface structures (slabs, walls, etc.).
ADVANTAGES
Cost savings, due to easy fitting. Moreover, in case of grids, overlapping is avoided, as there is a single, independent, reinforcement in each direction.
Easy to install, due to the light weight per m2 and accurate fitting to the dimensions required.
They can be used for different kinds of supporting structures (linear, surface) and types of reinforcement (grids, supporting ties, etc.)
Wide range of dimensions of up to 12.0m in length and 3.6m in width.
In SIDEFIT 2D mesh sheets the main reinforcement is welded in both directions of the mesh (Ø8- Ø25 in one direction and Ø8-Ø16 in the other).
SIDEFIT 2D Special Mesh Reinforcements can be used in all cases of creation of reinforcing grids for surface structures with the use of a single mesh sheet.
It is possible to create complex shapes and hooks, depending on the weight of the sheet.
The selection of the position and the number of bars of the structure to be reinforced is done by adhering strictly to the needs of the design.
ADVANTAGES
Cost savings, due to the minimisation of the time required for fitting, as the minimum possible sheets, without the need for tie wire, are used.
Strict adherence to design, due to the use of the required bar diameters at secured distances in both directions.
Exceptional rigidity of the reinforcing grid due to its monolithic construction, with spot welding technology in total conformity with the provisions of the Steel Technology Regulation.
A high level of industrialisation, as in most cases it is placed without human intervention.
CHARACTERISTICS, DIMENSIONS & WEIGHTS
SIDEFIT Special Concrete Reinforcing Mesh stands out for the wide range of possibilities it offers and its flexibility regarding their main parametres: diameter and spacing of reinforcement, mesh dimensions etc. (see Table). Its fabrication from straight SD Class B500C (ELOT 1421-3) Steel bars  ensures accuracy in geometry and enables easy forming.
Production Range
FROM
TO
DIAMETER OF LINE REBARS
(mm)
Ø8
Ø25
DIAMETER OF CROSS REBARS
(mm)
Ø6
Ø16
LENGTH OF MESH
(m)
1.0
12.0
WIDTH OF MESH
(m)
1.0
3.6
DISTANCE BETWEEN OPPOSITE LINE REBARS
(m)
–
3.2
SPACE BETWEEN LINE REBARS
(mm)
from 75mm and up with stable or variable pitch
SPACE BETWEEN CROSS REBARS
(mm)
from 75mm and up with stable or variable pitch
EDGE LENGTH
(mm)
according to request
Production from straight SD category B500C (ELOT 1421-3) bars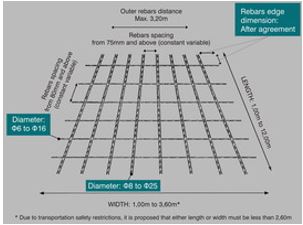 SIDENOR SA (ATHENS) – Export Dept.
Address:
33, Amaroussiou-Chalandriou street
Postal Code:
GR-15125
City:
Athens
Area:
Attiki
Country:
GREECE
Telephone:
(+30)-210-6787111
Fax:
(+30)-210-6787740
e-mail:
info@sidenor.vionet.gr
SIDENOR SA (THESSALONIKI) – Export Dept.
Address:
12th km National Road Thessaloniki-Veria
Postal Code:
GR-57008
City:
Thessaloniki
Area:
Ionia
Country:
GREECE
Telephone:
(+30)-2310-790111
Fax:
(+30)-2310-722288
e-mail:
info@sidenor.vionet.gr
GENECOS SA (FRANCE)
Address:
19, Rue de Passy
Postal Code:
FR-75016
City:
Paris
Area:
Paris
Country:
FRANCE
Telephone:
(+33)-1-45270754
Fax:
(+33)-1-45270708
e-mail:
genecos@genecos.vionet.gr
METAL AGENCIES LTD (UK)
Address:
Suite 4, Cobb House, 2-4 Oyster Lane
Postal Code:
KT14 7DU
City:
Surrey
Area:
Byfleet
Country:
UNITED KINGDOM
Telephone:
(+441)-932-331111
Fax:
(+441)-932-331190
e-mail:
sales@metalagencies.com
TEPRO METALL Vertriebs GmbH (GERMANY)
Address:
Ursulastrasse 33-41
Postal Code:
DE-50354
City:
Hurth
Area:
Hurth
Country:
GERMANY
Telephone:
(+492)-233-790361
Fax:
(+492)-233-790366
e-mail:
mbeissel@teprometal.vionet.gr
SIDEROM STEEL SLR (ROMANIA)
Address:
42, Drumul Intre Tarlale Street 3rd Sector
Postal Code:
032982
City:
Bucharest
Area:
Bucharest
Country:
ROMANIA
Telephone:
(+402)-1-2090138
Fax:
(+402)-1-2090365
e-mail:
SIDEBALK STEEL Ltd (SERBIA)
Address:
Arsenija Čarnojevića br.52a/4
Postal Code:
11070
City:
Belgrade
Area:
Belgrade
Country:
SERBIA
Telephone:
(+381)-11-2129794
Fax:
(+381)-11-3116778
e-mail:
SIDERAL STEEL Shpk (ALBANIA)
Address:
Autostrada Tirane – Durres km 24
Postal Code:
City:
Tirana
Area:
Sukth
Country:
ALBANIA
Telephone:
(+355)-568-7574111
Fax:
(+355)-568-7574510
e-mail:
info@sideral.vionet.gr